Select the image that best matches your cleaning frustration situation.
Special service required to restore a "cleanable" surface

Tile Floor
Before and After
Professional MARBLELIFE Service
Dull spots (vinegar)
Do you clean with Vinegar? This this one is for you. Vinegar has many benefits – but cleaning is really not one of them. The downsides created with cleaning with an acid accumulate with time to generate an expensive restoration bill. Its recommendation, is based on inappropriate wives tales.

Marble, limestone, Travertine, Terrazzo and concrete are all acid sensitive. Vinegar is acidic. If you are cleaning your floor with vinegar, you WILL see a loss in shine that accumulates over time as you slowly move from a gloss finish to a matte finish, You will also see a generally lightening of the tile color, while grout lines begin to darken particularly in high traffic areas. The grout color change can be offset if you original color was dark gray or black which will begin to soften and lose their color depth.

GOOD NEWS! We can restore your surface to its original appearance, and provide you an appropriate non-damaging replacement for your vinegar cleaner.
Learn More

TILE – Marble, limestone, terrazzo and concrete will all react to vinegar poorly. Ceramic and Porcelain are acid-resistance and will not be damaged in this way BUT their grout is not so fortunate (See the section on grout staining below)

Vinegar will react with CaCO3 in these products to form a water dissolve-able salt, which is then washed away by the water in your cleaner. This creates micro-pits in your smooth tile surface, in effect roughening the surface and reducing its ability to bounce life true. These micro-pits appear lighter as a result of residual salt dust which is generally white in color providing the appearance of a lighter floor that is often confused with "cleaning" effect.

GROUT – Grout includes dyes that can be removed with acid. Grout is also generally sealed with a penetrating sealer. These sealers are acid sensitive, such that they can be forced back to their unreacted raw materials and then washed away over time by the water in the cleaner. When this happens your grout's pores are once again opened and capable of absorbing dirt and oils resulting in grout appearing stained as dirt enters and resides in these pores. The rate of damage is slow – and as such – it is often only after many applications does not realize there is a problem, but that problem will require a profession service to fix.
First – Stop cleaning with vinegar – it is creating the need for a restoration the cost of which will vary based on length of use and degree of accumulated damage.

Second – Shift to a surface-safe cleaner (see Products below) Third – Contact a professional stone or tile restoration company such as MARBLELIFE to discuss what may need to be done to reverse the damage and restore your beautiful cleanable surface.
GROUT – Grout will generally need to be colored, have the remnants of any seal removed, have a new acid-resistance colored seal installed to restore an unstained, color uniform, cleanable grout surface resistant to future damage (even if one cleans with vinegar again).

TILE – Marble, Limestone, Travertine, Concrete and Terrazzo tile surfaces will need to be re-polished to restore color and desired finish. This will require the assistance of a professional craftsman. DO NOT WAX – as this will provide a short-term solution, but long-term will create its own problems and increase the cost associated with resolving the damage.

MARBLELIFE can restore a CLEANABLE surface to you, and provide you guidance on the appropriate cleaners and cleaning strategies to avoid a repeat problem later.

Products
Once restored, clean with MARBLELIFE MARBLE & TRAVERTINE cleaner for marble, limestone and travertine.

Use ENDURA-CLEAN for Concrete and Terrazzo surfaces.

MARBLELIFE FLOOR CLEANER CONCENTRATE – Can be used for marble, limestone, travertine, concrete and terrazzo floors. This product is also suitable for ceramic and porcelain surfaces.

Formulated to be free of Wax, oils and acids to provide a exceptional cleaning, without damaging the cleanability of your surface.

IMAGES – Need image of a uniformly dull marble floor to gloss polish.

Speak to an expert 888-218-4616
Tile Floor
Before and After
Professional MARBLELIFE Service
Countertop Dull Spots
Dulling of countertop finish. This is generally uniform across the entire surface. Good News - This is addressable with a professional cleaning and a change in daily cleaner.
Learn More
Wax build up from use of wax-containing common glass cleaners and kitchen cleaners. Cleaners will often incorporate a wax in order to fill in micro-abrasions and enhance shine on the belief that the American public equates "shiny" with "clean." These are actually entirely unrelated. The wax is soft, attracts dirt, and dulls overtime, requiring additional cleaning and fresh wax to restore that clean appearance, when in fact, the wax is now the primary deterant to achieving a clean look, a clean surface and a cleanable surface.
Are generally caused by repeated use of wax containing or gloss enhancing cleaner. Over time wax build-up traps dirt, defracts light as it thickens to block the natural light reflection under the polished surface beneath it.
A professional will need to remove the wax and address any polishing needs your particular surface may need to restore a cleanable surface at which point a wax-free cleaner is recommended based on surface type MARBLELIFE offers cleaners for MARBLE & TRAVERTINE, GRANITE & QUARTZ, TILE & GROUT, WOOD and CONCRETE & TERRAZZO

Speak to an expert 888-218-4616

Granite Floor
Before and After
Professional MARBLELIFE Service
Dull spots (wear)
Lack of gloss or shine in the traffic areas where people normally walk. GOOD NEWS! We can restore a consistent new appearance to your tile.
Learn More

Overtime all hard surfaces wear with foot traffic. This generally takes the form of dull areas in the walk paths with micro-scratches and scratches. As this is damage to the surface, it can be cleaned but cannot be corrected with a cleaner. When sand, dirt or hair are trapped underfoot down pressure can be multiplied as it concentrates at this single point, versus being spread out across the full surface of your shoe enabling a person to scratch the surface of even the hardest floor surface material. Over time, with each foot step the entire surface can dull.
Wax may hide them, but in doing so this band-aid solution creates its own downstream problems. Being softer than the original surface it is easer to damage and tends to capture dirt.

What is needed is to grind the surface to remove the micro scratches and restore a smooth finish free of scratches and damage. A professional stone craftsman will be required to perform this operation. Once done the surface will once again be cleanable having been restored to like-new.
Contact MARBLELIFE to schedule a service to have your stone restored.
MARBLELIFE will hone the surface to remove damage, and then re-polish to restore color and desired gloss.

Speak to an expert 888-218-4616

Shower Floor
Before and After
Professional MARBLELIFE Service
Red Rust
Red in color, deposited from iron rich water as it evaporates
Learn More

Red in color, deposited from iron rich water as it evaporates
Removed with acid, however acid will damage many underlying surfaces and grout, as such best addressed by a professional
If rust stains appear on marble, travertine or limestone call a professional as most solutions will do damage during the removal process which then need to be repolished or otherwise reversed to return a clean red-free surface.

Speak to an expert 888-218-4616
Granite Floor
Before and After
Professional MARBLELIFE Service
Slippery
Floor is slippery when walking across it.
Learn More
Slip requires the presence of a moveable material in the form of oil or dust, on top of a surface that lacks sufficient roughness to resist movement.
Contrary to popular notions – a shiny surface is not necessarily slippery. That said, it is true that generally a smooth surface has a smaller coefficient of friction making it easier to slip when dust or water are present or introduced. That said, different materials have different coefficient of frictions as such the application of wax to a surface will often reduce its coefficient of friction making to more slippery. Similarly the introduction of oils to enhance gloss appearance will result in a more slippery surface.

Similarly, one can slip on what is considered a rough surface – A car traveling at speed can hydroplane on a road when the surface is wet. The water is the moveable media in this case.

As such, one can reducing slip by maintaining a dry, dust free-surface, by removing waxes, and resisting the use of oils to enhance appearance in preference to managing the surface characteristics directly.
Solutions will vary based on the particulars of your situation including surface type, surface modifications, cleaning strategies, sealing conditions and the presence of wax.

Change in floor finish, topical coatings or the introduction of non-skid media in the form of a coating or tape may all contribute to reduction, but are not suitable in all conditions.

It is recommended that you have a professional craftsman review the particulars of your situation to ascertain specific recommendations.

Products
When it comes to cleaning floors in a manner to reduce the incidence of slip it is generally safe to say that the most important consideration is establishing a frequency based on the expected introduction of dust and water to the surface. The frequency needed can be modified through the use of appropriate matting, selecting mats based on what is needed most and may require use of multiple types to address debris versus water.

Surface modifications should avoid the use of waxes which can modify coefficient of slip to be too high as well as too low.

Surface finishes can be a factor by increasing roughness of the surface.

There are no universal recommendations here as one needs to formulate a strategy consistent with one's use and surroundings.

Speak to an expert 888-218-4616
If you are struggling to get back to clean, it is possible what looks like dirt may be damage and may require some special attention in the form of a specialty cleaner or a service. Mold, Soap Scum, and Cleaner-deposited-Waxes will generally require more attention than a daily cleaner will be able to provide. If you found your situation in the images above, you already know what is needed to restore a "cleanable" surface.

If you are already aware of the importance of using a non-damaging cleaner designed to clean without creating these common avoidable situations then you are looking for MARBLELIFE's Tile & Grout Cleaner and Concentrates.

If neither applies – call MARBLELIFE – our trained professionals – have encountered it all before as the only company that provides specialty clean-and-restore services and has been formulating and deploying non-damaging cleaners for more than 30 years, we are uniquely qualified to address your "frustrations," and to assist in returning you to a cleanable surface, and then helping you keep it there with the right cleaning solutions.
KNOW YOUR TERMS – this can facilitate selection of the correct tool or product.
Learn More
Know you terms – this can facilitate selection of the correct tool or product.
Cleaners are designed to remove everything from the surface without depositing waxes or oils.
Polishes are designed to smooth the surface in order to better reflect light. These are not coatings designed to lay on the surface but being softer than stone wear and fail, but rather a polish seeks to smooth the hard stone surface for maximum longevity.
Sealers (penetrating) are designed to fill in grout pores to prevent dirt and stain from penetrating, but not to lay on the surface (topical).
Specialty Cleaners are designed to address special situations which exist once, until we address it, so you can return to a cleanable surface. So Maxout is designed to lift dirt and oils out of pores. Soap Scum is engineered specifically to cut through soap or burnt on grime to restore a soap and grime free surface to a cleanable one.
MARBLELIFE products therefore use no acids, no waxes or oil deposits.
ONCE YOU HAVE RESTORED A CLEANABLE SURFACE, HERE ARE THE SURFACE-SAFE PRODUCTS YOU WILL NEED TO MAINTAIN YOUR CLEANABLE SURFACE WITHOUT RE-DAMAGING IT (Yes – the most common reason that a surface cannot be cleaned is that it has been damaged by either the cleaner or another cause. 20% of our restoration work is do to use of an inappropriate cleaner.) Note, No cleaner will restore a clean appearance until the above issues are addressed. MARBLELIFE can do that, and can provide you the surface safe products you need.
Non-Damaging Cleaners
These products have been formulated to avoid damaging ingredients that can destroy or hide your CLEANABLE surface.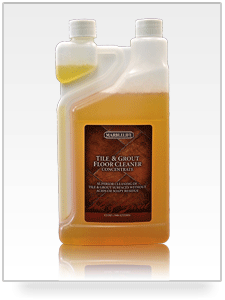 MARBLELIFE® Tile & Grout Floor Cleaner
Marblelife Tile & Grout Cleaner – Countertop & Floor Cleaners
Cleans Beautifully While Saving You 80% Over Ready-To-Use

Buy this product!
Helpful Links: