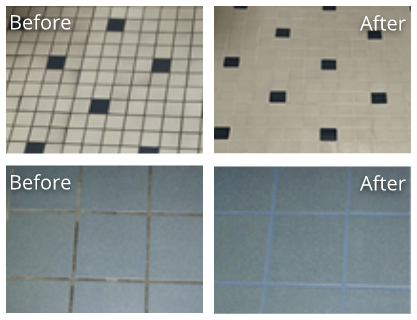 There are few places exposed to more germs, bacteria, and viruses than medical offices, clinics, and hospitals. Cleaning and maintenance of these spaces is integral to patient health and wellbeing along with that of staff and medical personnel working in the facility.
Surfaces such as stone, tile, and grout can trap harmful germs and bacteria due to their natural porosity. And improper cleaning can drive these contaminants further into the surface, which can be particularly dangerous for hospitals, clinics, and medical offices.
Did you know secondary infections are the #4 killer of Americans today, deadlier than breast cancer and car accidents.
Thankfully, MARBLELIFE® offers a variety of smart surface treatments designed to create and maintain healthier spaces:
Deep Extraction Cleaning
Our Deep Extraction Cleaning uses heated pressurized water to separate dirt and grime from your surfaces. However, Deep Extraction Cleaning will have a limited impact on stains, and those issues should be treated with our proprietary COLORSeal technology.
COLORSeal®
MARBLELIFE® COLORSeal® is your solution for stained or discolored surfaces. The process begins by applying the appropriate cleaning solutions to the surface, agitating them into the porous stone, and scrubbing them clean. The soiled dirt and grime breaks up, emulsifies, and is extracted using a truck-mounted or portable vacuum system. The COLORSeal treatment is then brushed into grout lines (for tiled surfaces) or on the surface itself, sealing in the restored color while preventing future stains.
TileLok®
MARBLELIFE® TileLok® treatment can be applied to maintain the quality of your surfaces in several ways. Surfaces treated with TileLok® are highly resistant to scuffs, scratches, and yellowing, and require no buffing to maintain. If you're looking for a cost-effective treatment that delivers lasting results—look no further than TileLok®
Contact us for a Free Estimate. Just enter your zip code and get the contact number for your nearest MARBLELIFE® craftsman. Have a lot of properties, we have a lot of offices and craftsman strategically placed throughout North America to provide consistent quality coverage.